The beauty of StreetSmart is its simplicity. It is an innovative, easy fundraising scheme which works during the holiday months when people begin to think about those less fortunate than themselves.
At participating restaurants, with the benefit of a tablecard, or a reference on the menu, a voluntary £1 is added to the table bill at the end of the meal during the months of November and December. At the end of each month, the restaurant passes on the total money raised to StreetSmart. We then use all of those £1s to support reputable charities in that city. So participating London diners are helping out London organisations, and Newcastle diners are helping organisations in the North East.
And remember: since all StreetSmart's running and operational costs are generously paid for by our sponsors, every penny in every £1 raised goes directly to the people who need it!
At a glance:
restaurateurs
Customer awareness: The £1 donation is voluntary and can easily be removed from the bill upon request. Customers rarely object in fact they're delighted to have an opportunity to help the homeless over Christmas. The past five years of experience has shown that less than 1% of customers decline to participate; in fact they often request that more than £1 be added to the bill!
Administration: Electronic tills record donations, so administration is minimal. Just collect the total amount at the end of each month or at the end of December and pass it to us.
Restaurant staff and tips: It's quick and easy for staff to operate, and most welcome the chance to help the homeless. Most restaurants find that participating in StreetSmart has no effect on the level of tipping. In fact customers are happy to contribute and don't make any adjustment to the level of tip they would normally leave for a meal.
VAT: The £1 donation is added to the bill after the service charge and VAT, and so does not affect your VAT returns.
Payment details: Restaurants are asked to submit funds to StreetSmart by the end of February at the latest. EITHER by sending a cheque payable to 'StreetSmart-Action for the Homeless' to StreetSmart, 83 Clerkenwell Road, London, EC1R 5AR; OR by arranging a credit transfer to our account at Barclays Bank, sort code 20-36-47 / account number 70190888.

customers
The restaurants are the main channel for the StreetSmart campaign, but you, the customer are the real contributor.
At the end of your meal, a voluntary charge of £1 per table is added to the bill after service and VAT. Dinner for four would amount to each person contributing 25p. You of course, can choose not to participate, simply by telling the staff who can easily remove it from the bill.
It's a simple way to help the homeless in your local city get back to being a vital, contributing member of society.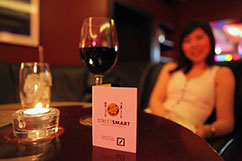 StreetSmart's discreet but informative table card.