StreetSmart raises thousands for homeless charities in your city every year during November and December. In the 2013 campaign we raised the incredible sum of £610,000.
Since StreetSmart was established in 1998, we have raised over £6.9 million for the homeless.
We've grown both in terms of money raised and number of restaurants participating, and now over 100 homeless charities benefit from the campaign. So if you run a restaurant, do sign up, and if you simply eat out in them, make sure it supports StreetSmart - what's £1 at the end of a fantastic meal?
More details on which charities we support and how
Brief history of how the scheme came into being
Details on our trustee's
Details on our supporters and newspaper partners
Information and statistics about homelessness from the Office of the Deputy Prime Minister and Crisis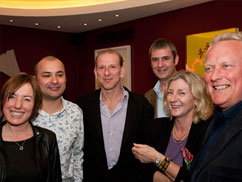 The StreetSmart gang, including chairman William Sieghart, trustee Rosie Boycott and supporter Neil Morrissey